After waking up at 4am and not being able to get back to sleep (again) I decided to get up and do a book tag. Seemed like a reasonable go-to after a restless night. I found this little beauty over at A Very Fantasy Corner of Books by Cassiopeia's Moon and it seemed right up my alley. Without further ado on this sleepless night, I give you The Unpopular Opinions Book Tag.
A POPULAR BOOK OR BOOK SERIES THAT YOU DIDN'T LIKE
If any of you read my review of this book, which can be found here, then you know that I was completely not on board the hype train for this book. I found none of the characters to be genuine or even remotely likable. It took more than half of the book for the action to start and wading through all of the back story and buildup was torturous. So many people adore this book but it just was not up my alley.
A POPULAR BOOK OR BOOK SERIES THAT EVERYONE ELSE SEEMS TO HATE BUT YOU LOVE
Doctor Faustus by Christopher Marlowe. This play was actually assigned reading for me in college. I recall that during the open class discussion many of my fellow students had vehemently negative opinions of it and I simply didn't understand why. This play made me fall in love with Christopher Marlowe. There are life lessons to be learned from this play and Marlowe presented them in an entertaining yet poignant fashion.
AN OTP THAT YOU DON'T LIKE
So, I had to look up what OTP meant. I read it and starting singing "Whose down with OPP" in my head. So, for anyone else not in the know, apparently OTP means "One True Pairing" or your favorite combination of characters in a fandom. One that I've come across numerous times that I just don't like is (no opinion here). Sorry folks. Even if I don't agree with other's opinions on matches in books it's not enough to bristle my whiskers. Go jump on whatever ship you want, I'll even discuss it with you if you like, but don't expect me to be bothered about it.
A POPULAR BOOK GENRE THAT YOU HARDLY REACH FOR
Romance. I strongly dislike books whose story lines are strictly of a romantic nature. I read one a year around Valentine's Day and that is it. They just don't appeal to me. I'm usually shouting at the characters, "Don't do it!" or "You imbecile!" Not my cup of tea.
A POPULAR/BELOVED CHARACTER THAT YOU DO NOT LIKE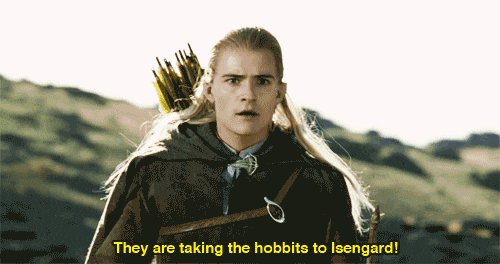 At the risk of starting a riot, I don't like Legolas. I understood his point in the story, I appreciated his contribution, but in general I just didn't like him. Other than being able to accurately shoot things with magically never ending arrows and giving Gimli someone to harass he was dull to me. His only redeeming quality is the "They are taking the hobbits to Isengard" hilarity. If you have been living under a rock for the last decade you can see what I'm talking about here.
POPULAR AUTHOR THAT YOU CAN'T SEEM TO GET INTO
Neil Gaiman. I just can't. I tried to read American Gods. Really, I did. I even picked up Norse Mythology just to see if maybe it was only American Gods that didn't appeal to me. Nope. Nothing against Gaiman, from his interviews etc he seems like a good guy, but I just don't enjoy his books.
A POPULAR BOOK TROPE THAT YOU'RE TIRED OF SEEING
The Chosen One. You know what I mean. There is only one person in all of the world that can do this one really important thing. Maybe they are the only one who can stop the evil queen, or the only one who can take down the bad guy, or the only one who can save the world. Bullocks. It'd be more fun to kill off a "chosen" character and the world be saved by a lemur tripping said bad guy onto a sword or something. If a lemur can do it, so can you!
A POPULAR SERIES THAT YOU HAVE NO INTEREST IN READING
I truly disliked Six of Crows so much that I have absolutely zero interest in reading the popular Grisha Trilogy. Maybe it is wonderful. Maybe they would be ground breaking books for me and the light of heavenly literature would shine down upon me in all of it's glory imbibing me with magical powers. I don't care. Still not reading them.
THE SAYING GOES "THE BOOK IS ALWAYS BETTER THAN THE MOVIE", BUT WHAT MOVIE OR TV SHOW ADAPTATION DO YOU PREFER MORE THAN THE BOOK?
I've mentioned I am Legend before but it will never stop being relevant to the above question. When I watched I am Legend and enjoyed the movie (except for the poor dog) I decided to give the book a shot. I expected to thoroughly enjoy it. I didn't. It was terrible. I donated my copy to the library so that I wouldn't even have to look at it sitting on my shelves, sullying the other books with it's foul words.
---
I never tag people in these things but if you want to do this tag, please, feel free! It was surprising cathartic.