Top Ten Tuesday is a weekly meme hosted by The Broke and the Bookish. This week's theme Summer Reads. In preparation for Memorial Day (which is always the unofficial summer kickoff), let's recommend some summer/beach reads: books to go in your beach bag, best books set in summer, books with summer-y covers, best beach reads for people who don't enjoy contemporary/realistic reads, best beach reads for fans of X genre, etc. etc.
To get myself in the mood to write this one I pulled up a playlist called So Cal Summer on Google Play. To say the least, I'm not feeling summery yet. Here it is still rainy and vaguely chilly. (For the record, so far this play list is more depressing than anything)
A BOOK WHERE THERE IS A LITERAL BEACH
Savor the Moment by Nora Roberts. So, every now and then I read a romance novel. If you've so much as glanced at my book reviews before that may be a bit of a shock, I know. Toward the end of the book, the characters take a vacation at the beach where our main character, Laurel, gets engaged. It's really a pretty sweet scene.
THE ALIEN BEACH
Freedom's Choice by Anne McCaffrey. This book is the second in McCaffrey's Catteni series. In this series, Earth and other planets have been invaded and the indigenous intelligent life has been stolen away from their home planet and some of them are transplanted on new planets to colonize them. Low and behold the group, which includes a giant biped cat, find themselves on an alien beach. (Can you tell I'm having trouble with this summery/beachy theme, yet?)
SUMMERY COVER
That Summer by Sarah Dessen. I've never read this one but boy does that cover shout summery beach day to me.
UPCOMING SUMMER RELEASE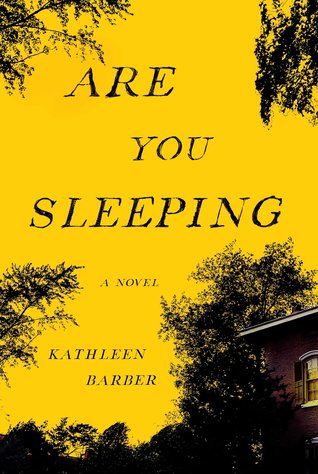 Are you Sleeping by Kathleen Barber. This book is set for release on August 1st which is certainly high summer. Serial meets Ruth Ware's In A Dark, Dark Wood in this inventive and twisty psychological thriller about a mega-hit podcast that reopens a murder case—and threatens to unravel the carefully constructed life of the victim's daughter. -From Goodreads
Alright, guys. I'm going off the rails on this one. This theme and I are going to have a fight. I could just tap out and list a bunch of books that I'd like to sit on a beach to read but that would end up being just a list of my favorite books. That feels like cheating. So, while above you see some beachy/summery books, below I give you… songs that make me think of summer! Yeah, I know, that's still cheating…give me a break, here.
My Own Worst Enemy by Lit. For me, this is close to an ultimate summer song. I remember sitting in the grass at a music festival, the summer sun beating down on me, listening to these guys blast this song to the crowd. It was a great experience and will always be a happy summer memory.
Scotty Doesn't Know from the Euro Trip soundtrack. Does this song even need an explanation? High school graduates, graduation party, awesome and catchy song.
1985 by Bowling for Soup. I remember hanging out with my friends on summer nights singing along to this song. It came out the year I graduated from high school and a lot of warm nights were spent with this blasting out of the car windows.
Josie by Blink 182. This song just makes you think of a hot California summer. Not to mention I'm pretty sure it's the first time I've run across this video and I may have giggled.
So maybe I didn't follow this week's theme to the letter. Maybe I should have just browsed Goodreads and found books with titles or covers that made me think of summer. But, I didn't. I hope you enjoy it all the same. Happy Tuesday!