Welcome to First Impression Friday! This meme is created by Joe at JW Martin – Storeys of Stories. The rules are:
• Based on this sampling of your current read, give a few impressions and predict what you'll think by the end.
• Did you think you'd love and ended up hating it? Or did you think you'd hate it and wound up loving it? Or were you exactly right?
• Link back to Storeys of Stories so everyone can enjoy reading all the First Impression Fridays out there!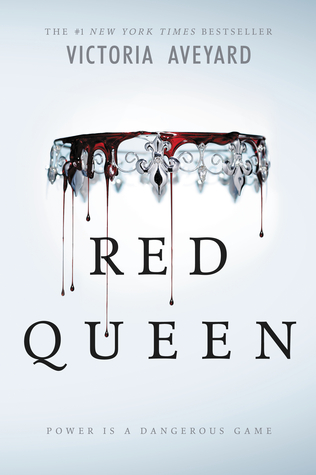 Title: Red Queen (Red Queen #1) by Victoria Aveyard
Publisher: Harper Teen
Published: February 10, 2015
Reading as: US hardcover
Expected rating: 3.5 or 4
This is a world divided by blood – red or silver. The Reds are commoners, ruled by a Silver elite in possession of god-like superpowers. And to Mare Barrow, a seventeen-year-old Red girl from the poverty-stricken Stilts, it seems like nothing will ever change. That is until she finds herself working in the Silver Palace. Here, surrounded by the people she hates the most, Mare discovers that, despite her red blood, she possesses a deadly power of her own. One that threatens to destroy the balance of power. Fearful of Mare's potential, the Silvers hide her in plain view, declaring her a long-lost Silver princess, now engaged to a Silver prince. Despite knowing that one misstep would mean her death, Mare works silently to help the Red Guard, a militant resistance group, and bring down the Silver regime. But this is a world of betrayal and lies, and Mare has entered a dangerous dance – Reds against Silvers, prince against prince, and Mare against her own heart. (from Goodreads)
I mentioned in my WWW Wednesday post this week that I had started reading Red Queen, somewhat by accident. I had actually deleted this book off of my TBR quite some time ago but, somehow or the other, I ended up with a copy of it in my hands.
As of this writing, I am 67% through the book and I'm actually enjoying it which was a bit of a surprise. The first third was absolutely engrossing and I could not get enough, the next section drug a little, and now I'm in the final stretch and it is picking back up again.
I like that this is really a brainless read. I don't need to focus, there are no important details I need to remember, I can just glide through. Easy peasy. I can't deny that I em enjoying that. Sometimes I want dense books that make my brain kick into over drive, other times I just want to sit back and relax. This is certainly in the sit back and relax category.
When I finish reading this, I'd guess that I would give this book a 3.5 or 4/5. I'm a little up in the air about it right now but I guess we'll see! I'm looking forward to finishing this. One of these princes is going to die, I can feel it. Please be Maven, he is a bore. Fingers crossed.