Title: Once & Future (Once & Future #1) by Amy Rose Capetta and Cori McCarthy
Published: March 26, 2019
Publisher: Little, Brown and Company
Read as: US hardcover
Average Goodreads rating: 3.68
My rating: 5
I've been chased my whole life. As a fugitive refugee in the territory controlled by the tyrannical Mercer corporation, I've always had to hide who I am. Until I found Excalibur.

Now I'm done hiding.

My name is Ari Helix. I have a magic sword, a cranky wizard, and a revolution to start.
When Ari crash-lands on Old Earth and pulls a magic sword from its ancient resting place, she is revealed to be the newest reincarnation of King Arthur. Then she meets Merlin, who has aged backward over the centuries into a teenager, and together they must break the curse that keeps Arthur coming back. Their quest? Defeat the cruel, oppressive government and bring peace and equality to all humankind.
No pressure.
It's true, I'm no murderer. But I do have an impulse control problem. And a sword.
Every time I think about this book I feel my eyes turning into little hearts. Oh yes, I'm a walking emoji about Once & Future. Someone who isn't terribly into reading asked me to describe this book to them, this was my response-
Gender swapped, futuristic SFF, LGBT, Arthurian retelling with so much sexiness it will make your head spin.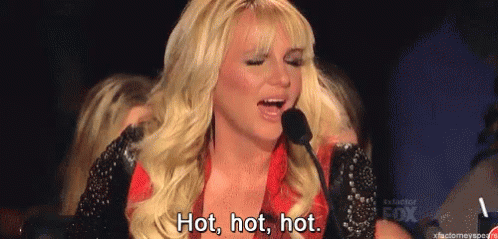 Look, understand now that when I love a book my review for it is an absolute mess. It is more arm flailing excitement and exclamation points than actual thought process. Guess what? I LOVED this book so be prepared for the arm flailing and gibberish nonsense.
What is an Arthurian legend, even in retelling form, without Merlin? When I think Merlin I think of an eccentric old man with a long white beard and pointy hat. Obviously, because Disney. But, the Disney version loved his books so that is alright.
The Merlin in Once & Future, however, is a seventeen year old sweet little dumplin of a wizard, hormones and all and it is hilarious. This Merlin is aging backwards and while he may have been an old wizard with a beard in the way once upon a time, now he is a precious child with peach fuzz. It is adorable and he is a complete dork who always provided the comic relief to make this book the jewel that it is. Of all the characters, Merlin was by far my favorite.
We also have Ari/Ara who is the female version of King Arthur. The forty-second King Arthur, if memory serves, and I'm not getting up to go get my copy to double check that so let's pretend that is right. She is a feisty, honest, determined young woman who has had a lot dumped on her during her short lifetime. Her home planet more or less quarantined (no one allowed in or out), parents murdered, and wanted by the government. Her life is not easy but she tries to make the most of things at every turn. I loved her determination to stay upbeat and motivated even when the odds were against her. Ari is a wonderful character and I couldn't help but root for her. So much is against her and it never, ever defeats her strong will.
Another thing I absolutely loved in this book was all of the LGBT+ rep. So much of it. I have never read a book that represented it so much and so well. Let me tell you, most of it was hot stuff, too. I'm not going to lie, the romantic scenes in this book were fantastic. I wish more books were more open in their representations. Everything felt normal and acceptable and I loved every moment.
All in all, this book was wonderful. Every time I had to put it down I absolutely could not wait to pick it back up again. The chapters had good flow, there was very little down time, the characters were vibrant and wonderful, and the rep was so very well done. If you enjoy YA SFF I cannot recommend this book enough.